Kickin' Teriyaki Hot Wings are smothered in the perfect marriage of honey, sriracha, hoisin and teriyaki sauce – oven baked and then broiled to crispy perfection.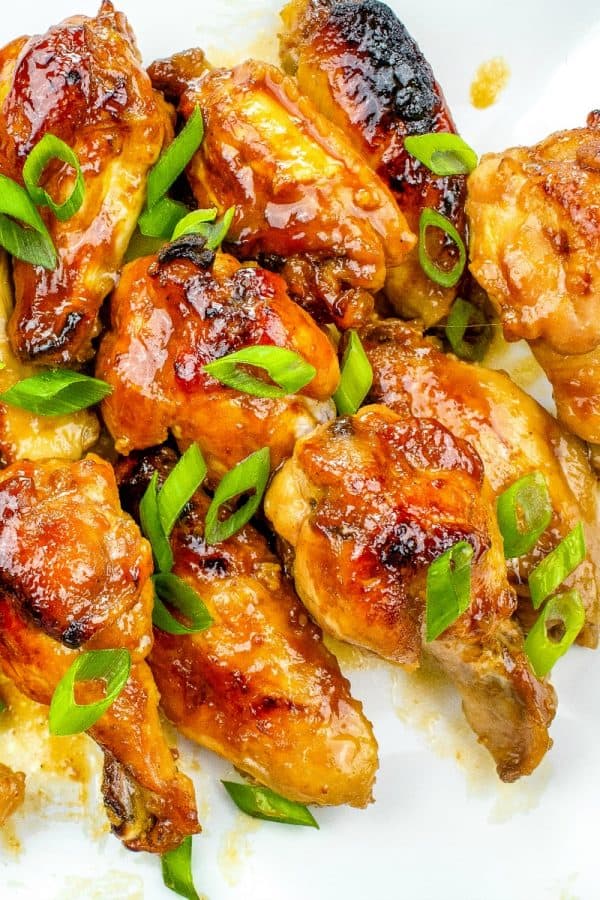 If you love perfectly seasoned oven-baked hot wings, these wings are IT! They literally marinate while being baked in a spicy teriyaki sauce that runs right to the edge of hot. Kickin' Teriyaki Hot Wings are the perfect appetizer for parties, game days, and easy weeknight dinners. They're sweet, spicy, and easy to throw together at the last minute. This baked hot wings recipe will be your favorite appetizer for game night. No need to order buffalo wings!
Fall is coming. It is my absolute favorite time of the year! Football games, marching bands, kids back in school, new shows on TV, football. Yes, I love to watch college football! And speaking of football – with football come chicken wings! That may sound strange, but to me they go hand in hand! And it is my firm belief that hot wings are meant to be shared – so invite your friends and family to come on over and share some of these incredible wings with you!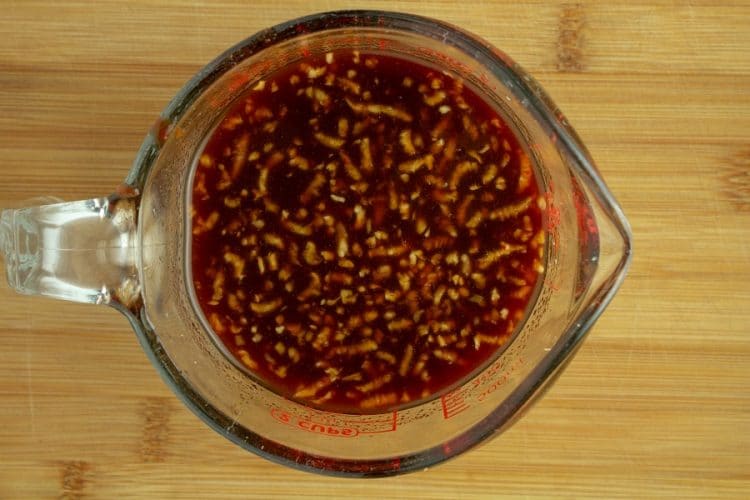 The secret to the best hot wings is usually in the sauce. I love hot wings…Buffalo Wings, Fiery Asian Hot Wings, Cajun Honey Lime Wings, Crispy Wings – I'll take them all! I especially love wings with teriyaki sauce. There is something about teriyaki sauce, with it's combination of soy sauce, brown sugar, garlic, ginger and rice wine that is just intoxicating.
You cannot go wrong with this sauce. I was pinched for time so I used bottled all-natural teriyaki sauce, but you could easily make your own.  The sauce for this recipe could not get any easier.
How To Make Teriyaki Hot Wings
Just mix teriyaki sauce, hoisin sauce, sriracha, honey, garlic and cornstarch into a glass measuring cup. Stir to combine and it is ready.
Arrange wings in an oven safe 9 x 13 baking dish. This size dish is perfect for 3 – 4 pounds of wings.
Pour the sauce over the wings to coat. The sauce will fill the bottom of the baking pan and will start to marinade the chicken while baking.
Once the wings have baked, throw the pan under the broiled for 2 – 3 minutes to get a good char on the wings. 
Then serve by sprinkling on sliced green onions, or sesame seeds, parsley, cilantro, lemon peel or what ever you like.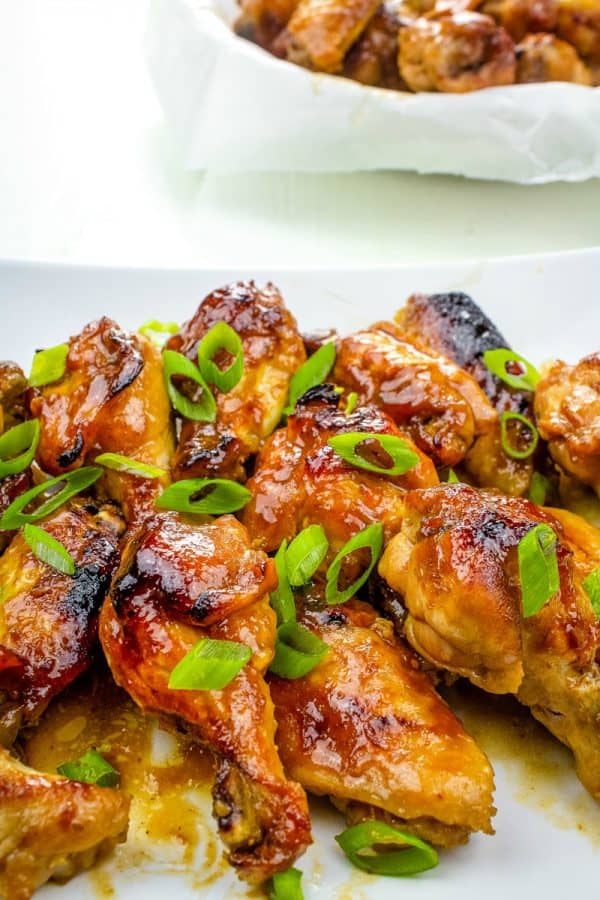 So, how did Americans come to fall in love with the chicken wing?
There is no glamorous story behind America's love for the chicken wing. It's actually one of convenience.
As the 70's turned into the 80's, people began to yearn for more convenient options for chicken that were easier to make and eat. The result was the boneless, skinless chicken breast. It's still America's favorite cut of chicken! In the wake of boneless, skinless chicken breast's amazing popularity, the price of wings, which are attached to the breast meat, went down. As the chicken breast became more popular, the wing was almost a byproduct, and restaurants could get them very cheaply.
Their low cost is why bars like the Anchor Bar, founder of the "Buffalo Wing", began to serve wings. And it was in those bars that the connection between watching sports and eating wings was born. One of the best things about chicken wings is that they are a great group food. A big plate of wings can be shared among a lot of people."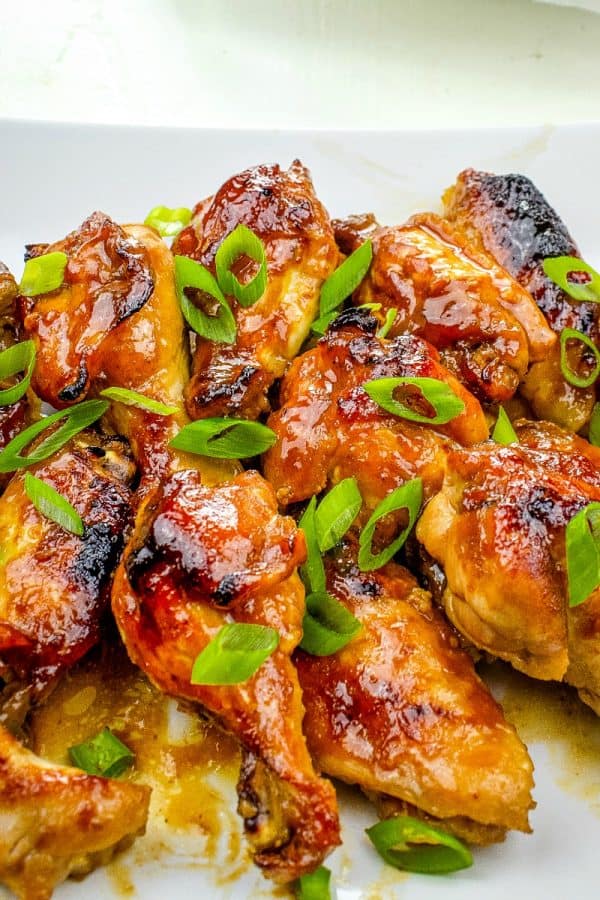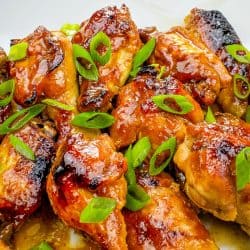 Kickin' Teriyaki Hot Wings
Kickin' Teriyaki Hot Wings are smothered in honey, sriracha, hoisin and teriyaki sauce then oven baked to crispy perfection.
Ingredients
4

pounds

chicken wings

cut into wing pieces

1

cup

teriyaki sauce

1/4

cup

hoisin sauce

3

tbsp

sriracha

1/4

cup

honey

2

cloves

garlic

minced

1

tbsp

cornstarch

1

medium

green onion

thinly sliced
Instructions
Preheat oven to 375 degrees. Spray  9 x 13 baking pan with non-stick cooking spray. Set aside.

Using a sharp knife or bone-cutting shears, remove wing tips and discard. Cut wings at the joint, leaving the drumette and the wingette. Arrange the chicken wing pieces into a single layer in the baking pan.

In a small bowl , add the teriyaki, hoisin, sriracha, honey and garlic. Stir to combine. In another small bowl, add the cornstarch and 1 tablespoon of water. Stir until the cornstarch is completely dissolved. Add to the teriyaki mixture and stir.

Pour all of the teriyaki mixture into the baking pan, coating the wing pieces.

Bake on the middle rack of 375 degree oven for 40 – 45 minutes. or until done. Begin basting the wings with the sauce at 20 minutes and continue basting every 5 minutes until done. Turn the broiler to High  and place the baking pan under the broiler for 2 – 3 minutes, until the wings are slightly charred. in places. More or less to your liking.

Remove the pan from the oven and cool slightly. Baste wings with the sauce, and garnish with green onion slices right before serving.
Notes
For best results use chicken wings that contain 5% or less retained liquid. If using chicken that contains more retained liquid the wings will require baking for 10 – 15 minutes before adding the teriyaki sauce to evaporate the water and allow the sauce to thicken.
Nutrition Facts
Serving:
4
wing pieces
Calories:
481
kcal
Carbohydrates:
26
g
Protein:
33
g
Fat:
27
g
Saturated Fat:
7
g
Cholesterol:
126
mg
Sodium:
2317
mg
Potassium:
400
mg
Fiber:
1
g
Sugar:
22
g
Vitamin A:
275
IU
Vitamin C:
7
mg
Calcium:
39
mg
Iron:
3
mg
© Copyright Christine Mello for Must Love Home. We would love for you to share a link to this recipe but please do not copy/paste the recipe instructions to websites or social media. We are happy for you to share a photo with a link back to this website instead.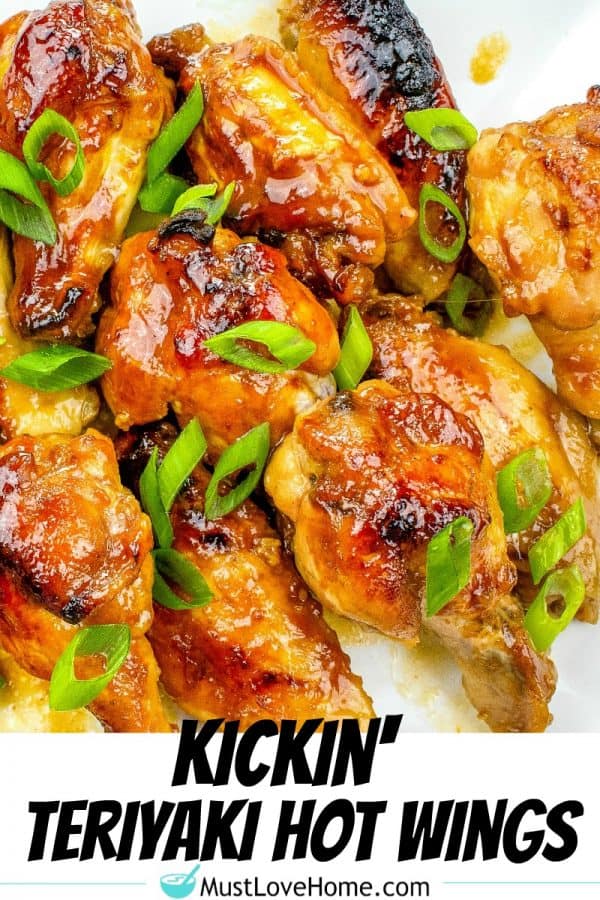 Post Updated September 2020