Harissa Chicken are marinated grilled breasts with a rub of chipotle, adobo sauce and seasonings, served with a fresh cilantro salad. Perfect as an entree, taco filling or spicy chicken salad.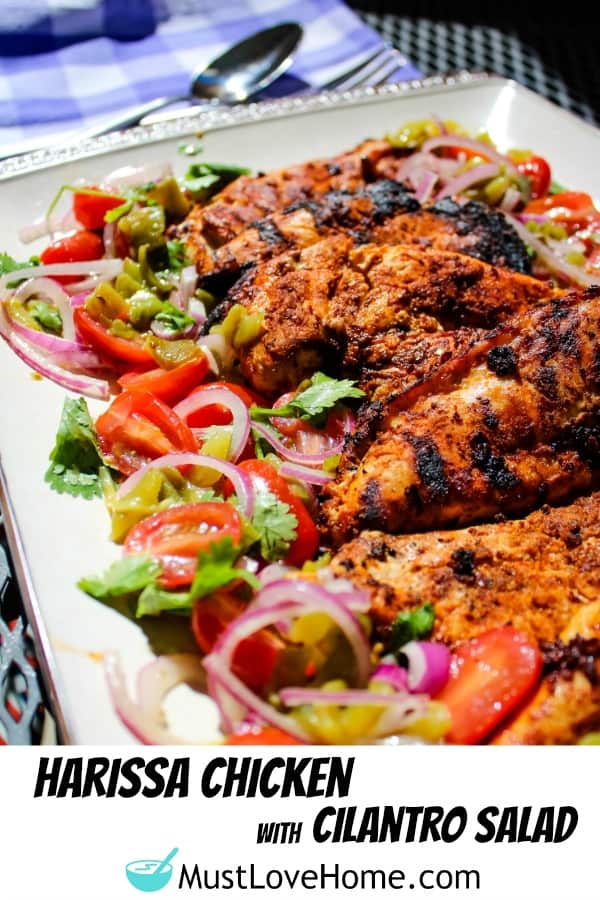 Can you ever really have too many chicken recipes? Not when you are adding Harissa Chicken with a side of cilantro salad to the list. Around our house we use chicken for just about every meat recipe and nobody minds. The guys are happy as long as there is food on the table, it tastes good and there's lots of it.
There was the usual suspicion when I put up on the menu board the first time that we were having Harissa Chicken, but that completely went out the window when the amazing smell of this chicken cooking came from the grill.
This site may contain affiliate links to products. We may receive a commission for purchases made through these links, which helps to keep this content free.
SPICES IN HARISSA CHICKEN RUB
Smoked Paprika – regular paprika is made from dried crushed chilies. Smoked Paprika gets it's strong smoky flavor from smoking the the same type of peppers before they are crushed. Oak wood is often used for the smoking.
Chipotles in Adobo Sauce – Chipotles are fully ripened jalapeno peppers that are dried and smoked. Adobo sauce is a tangy and slightly sweet red sauce that chipotles are canned with. The result is a tasty sauce with less fiery heat than the chipotle peppers.
Cumin – a nutty, earthy tasting spice with citrus undertones. One of the most used spices in the world, cumin is common in Mexican and Indian cooking.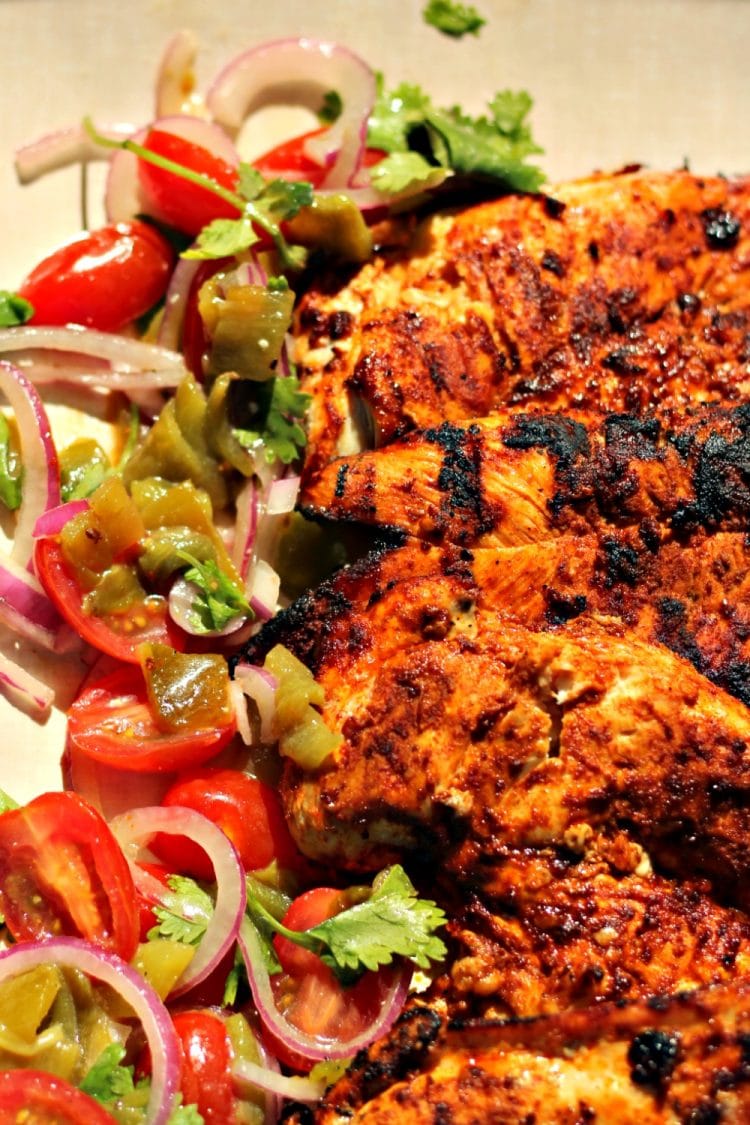 Back in the day, I used to be intimidated by the produce department. I didn't know much about herbs so I would buy those over-priced little packets of fresh herbs. Then one day, I met a local young chef as we were both grabbing for the last pint of blueberries and we got to talking. (they don't call me a chatty Cathy for nothin).
Anyway, because of him I worked up enough confidence to buy the fresh cut herbs like the cilantro in this recipe and really start to use them. So, the moral of this story is to ask questions because you never know what you will learn.
This recipe was adapted from Food and Wine.
HOW LONG SHOULD HARISSA CHICKEN MARINATE?
You should allow the chicken to marinade for at least 3 hours to get the full effect of the flavors. Besides the awesome taste, what really surprised me was how tender the chicken became. When I was grilling I kept thinking that the chicken wasn't done because it was still so juicy.
HOW TO MAKE CILANTRO SALAD
Cilantro is a delicious alternative to lettuce. It's not the usual lettuce for the greens, but you will not regret making a cilantro salad. It's sold in big, affordable bunches at most grocery stores. A bite of the chicken with the salad will really make you think you have gone to a fine Mexican restaurant.
In a small bowl, mix the chilies, onion, cilantro and tomatoes.
Top with dressing and toss.
Let the salad stand for 10 minutes to marinade and soften before serving. Done.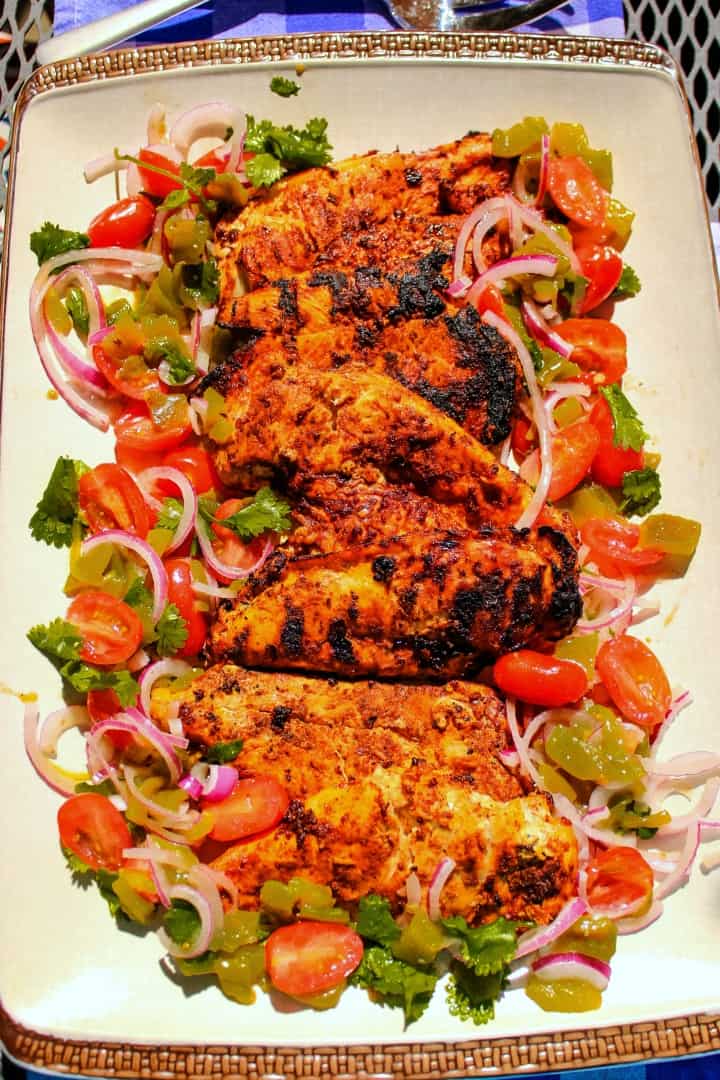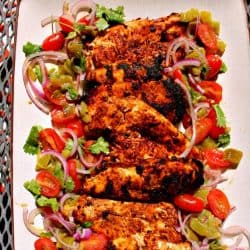 Harissa Chicken
Harissa Chicken are grilled chicken breasts marinated with a rub of paprika, chipotle chilies, adobo sauce and cumin then served with a cool cilantro salad.
Ingredients
2

tbsp

smoked paprika

1

medium

chipotle in adobo

minced fine plus 1 tsp adobo sauce

1

tbsp

minced garlic

2

tsp

cumin

2

tbsp

olive oil

salt and pepper to taste

2

pounds

chicken breasts

2 to 3 breasts sliced in half horizontally

2

large

anaheim peppers

1/2

small

red onion

thinly sliced

1

cup

grape tomatoes

halved

1

cup

cilantro

chopped

2

tbsp

Italian dressing
Instructions
In a small bowl, combine paprika, chipotle, adobo sauce, garlic, cumin and olive oil and crush with the back of a spoon until a paste forms. Season with salt and pepper. Spread the harissa all over the chicken, reserving 1 tsp harissa for later. Cover and refrigerate for at least 3 hours.

Over medium-high heat (375°F), grill the chilies until charred all over. Place the chilies in a bowl, cover with plastic wrap and let steam for 10 minutes. Peel, seed and chop the chilies into bite-size pieces.

Transfer the chilies into a medium bowl and add the onion, tomatoes, cilantro, Itialian dressing and 1 tsp harissa. Season with salt and pepper to taste. Let stand for 10 minutes.

Meanwhile, grill the chicken breasts over medium-high heat (375°F), turning until cooked thru, about 10 minutes or have reached 165°F on meat thermometer when inserted in thickest part of chicken. Serve the chicken with the salad.
Chef Tips
For more intense harissa flavor, marinate chicken breasts overnight.
Oven cooking – preheat oven to 375°F. Place chicken on a greased, rimmed baking sheet. Bake for 30 – 40 minutes until chicken reaches 165°F when meat thermometer is inserted in thickest part of chicken.
Nutrition Facts
Serving:
1
serving
Calories:
252
kcal
Carbohydrates:
6
g
Protein:
33
g
Fat:
10
g
Saturated Fat:
2
g
Cholesterol:
97
mg
Sodium:
324
mg
Potassium:
711
mg
Fiber:
2
g
Sugar:
3
g
Vitamin A:
1715
IU
Vitamin C:
9
mg
Calcium:
28
mg
Iron:
2
mg
© Copyright Christine Mello for Must Love Home. We would love for you to share a link to this recipe but please do not copy/paste the recipe instructions to websites or social media. We are happy for you to share a photo with a link back to this website instead.