Best Barbecue Cookout Chicken is a favorite hallmark of summer outdoor cooking! Get the flavor of moist grilled chicken slathered in tangy, caramelized homemade barbecue sauce. Make this drool-worthy chicken and you will have your fans raving!!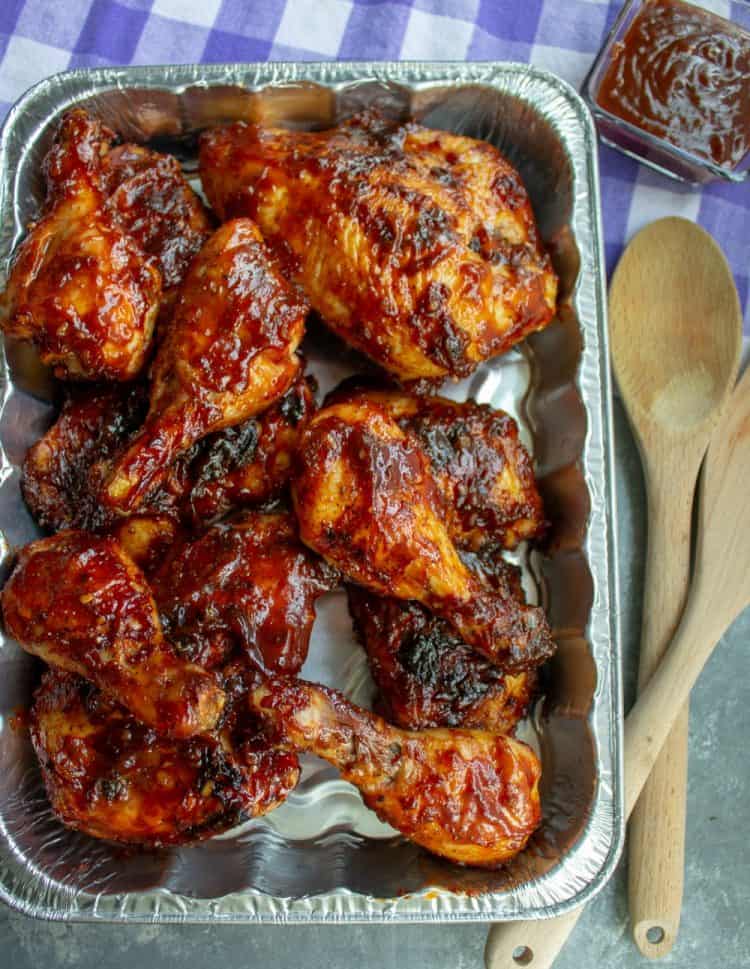 What would summer be without hot barbecue chicken straight off the grill? I am not taking anything away from my love of juicy steaks and pork chops, but there is just something so downright delicious about barbecue chicken that my mouth starts to water every time I think about it.
Reasons to love Best Barbecue Cookout Chicken:
Budget -friendly and leftovers can be stored in the refrigerator for 3 – 4 days.
Packed with amazing flavors and lean protein.
Family-friendly comfort food – kid tested!
Versatile – the tasty Barbecue Sauce recipe is great on pork, beef and seafood too!
Oh, you could use regular bottled sauce to make barbecue chicken, but the taste with Family Recipe Classic Barbecue Sauce is out of this world!
It is simple to make. Just saute the garlic in butter, then stir in all of the other ingredients listed. Let it come to a boil, then remove from the heat to cool down. This is the kind of sauce where you really do want to lick your fingers! No napkin please!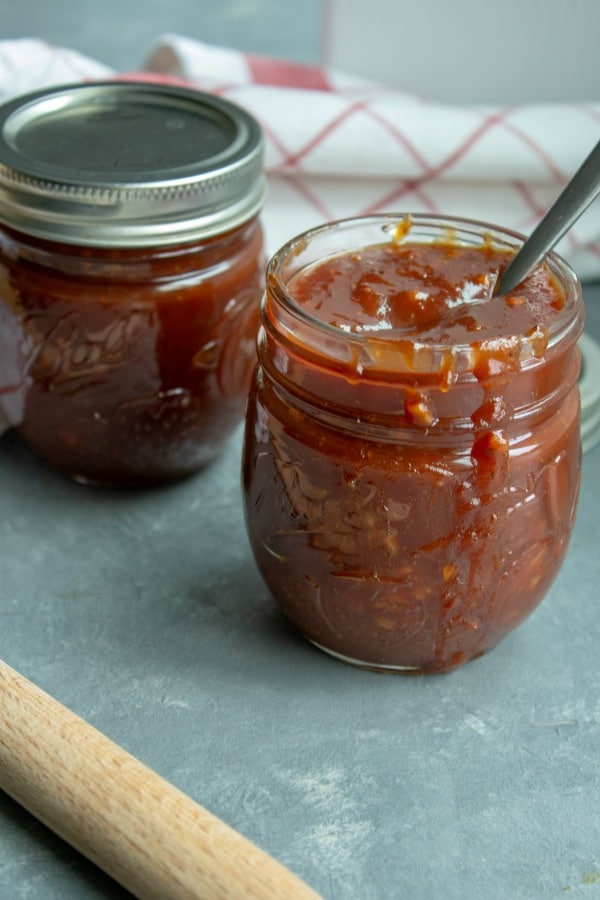 Tips for making the Best Barbecue Cookout Chicken:
I always say this, but a good meat centered meal starts with quality meat, so use organic chicken breasts.
For your spices, keep the shelf fresh by storing spices in a cool, dark place, away from direct heat or sunlight. In tightly closed containers whole spices will stay fresh for about 4 years, ground spices for about 2 to 3 years and dried herbs for 1 to 3 years.
Garlic is an integral component of this sauce recipe so use fresh, minced garlic if possible.
When the recipe calls for butter, make it the unsalted variety. Unsalted butter gives you, the cook, complete control of the overall flavor of your recipe.
Pre-heat your grill. Failing to preheat your grill may lead to food sticking to the grate. When food can sear and caramelize on a nice hot grate, it will release itself easily and make flipping a breeze. Also, if adding meat to a cold grill, the food will end up staying on the grill too long. This can easily lead to overcooked and dried out results.
Wait until the last 15 – 20 minutes of grilling time to baste the meat with barbecue sauce. The sauce may burn if added too early. Wait 5 minutes between each baste to allow the sauce to caramelize between coats.
Where did Barbecue Chicken come from?
True barbecue is distinctly American. No one knows for sure where the word barbecue originated, but most think it came from the Spanish. When landing in the Caribbean, they used the word barbacoa to refer to the natives' method of slow-cooking meat over a wooden platform. Now, even though we call most meat that we grill at home and slather with barbecue sauce "barbecue" it's really not. Real barbecue is cooked over indirect heat — usually a wood fire — for a very long time (sometimes for as many as 18 hours). The resulting flavor is a combination of smoke, meat juices, fat and whatever spices or rub have been added.
What is considered barbecue in America varies by region. There are four main styles named after their place of origin: Memphis, Tenn.; North Carolina; Kansas City; and Texas. Memphis is known for pulled pork-shoulder slathered in sweet tomato-based sauce (eaten on its own or as a sandwich). In North Carolina, whole hog's are smoked in a vinegar-based sauce. Kansas City natives prefers ribs cooked in a dry rub, and Texans love beef.
In other countries barbecue has it's own style. Korean barbecue is thin slices of beef or pork cooked and served with rice. Argentina has marinade-free meat cooked in a smokeless pit. And then there is Mongolian barbecue, which is neither barbecue nor of Mongolian origin but rather a type of stir-fry recently invented in Taiwan.
There you have it…so throw some meat on the grill and cook yourself a true American classic.
Ref. Time.com A Brief History of Barbecue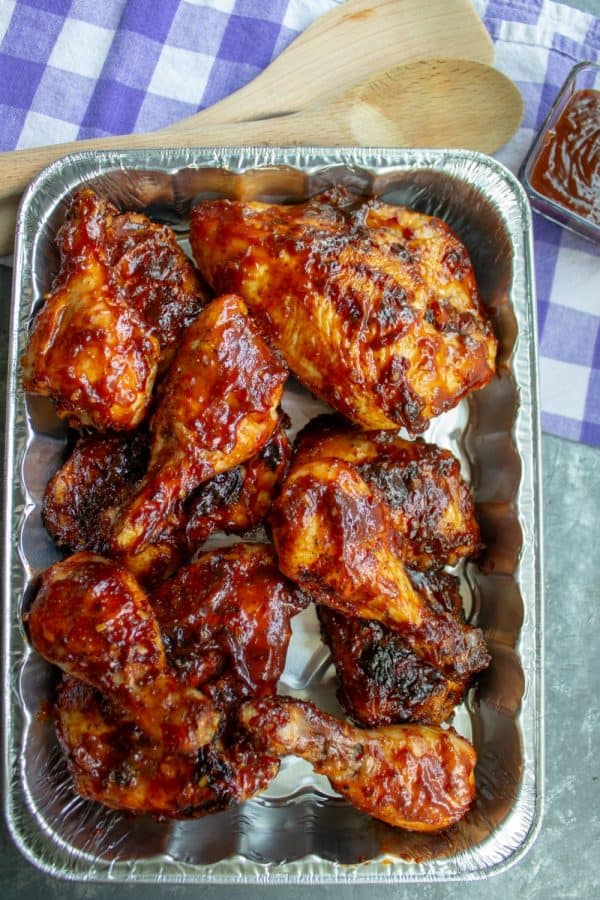 Helpful Tools: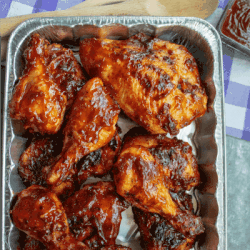 Best Barbecue Cookout Chicken
Best Barbecue Cookout Chicken is our favorite hallmark of summer outdoor cooking! Who can forget the flavor of moist grilled chicken slathered in tangy, homemade barbecue sauce and then caramelized so it is thick and sticky. Make this drool-worthy chicken and it will have your fans raving!!
Ingredients
4

cloves

garlic

minced

4

tsp

unsalted butter

2

cups

ketchup

1/2

cup

brown sugar

tightly packed

1/2

cup

chili sauce

4

tbsp

worcestershire sauce

2

tsp

minced onion

dried

1 1/2

tsp

celery seed

2

tbsp

honey

1-1/2

tbsp

yellow mustard

1

tsp

salt

1

tbsp

hot sauce

7

pounds

chicken pieces

2 cut-up fryers
Instructions
In a large saucepan, melt the butter over medium-high heat. Add the garlic and saute until tender.

Stir in the next 10 ingredients. Bring to a boil, stirring constantly. Remove the pan from the heat and set aside.

Brush grill rack lightly with oil, then pre-heat grill to medium-high, about 400 degrees.

Place chicken on grill rack and cook covered for 30 minutes, opening the lid to turn occasionally.

Baste with the sauce and continue cooking for about 15 additional minutes, continuing to baste and turn every 5 minutes until chicken reaches an internal temperature on a grill thermometer of 170 degrees.
Nutrition Facts
Calories:
511
kcal
Carbohydrates:
27
g
Protein:
35
g
Fat:
29
g
Saturated Fat:
9
g
Cholesterol:
139
mg
Sodium:
930
mg
Potassium:
587
mg
Fiber:
1
g
Sugar:
23
g
Vitamin A:
581
IU
Vitamin C:
9
mg
Calcium:
50
mg
Iron:
2
mg
© Copyright Christine Mello for Must Love Home. We would love for you to share a link to this recipe but please do not copy/paste the recipe instructions to websites or social media. We are happy for you to share a photo with a link back to this website instead.