Print
HOMEMADE BUTTERMILK RANCH DRESSING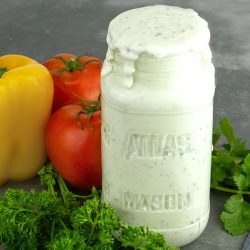 CREAMY, TANGY AND FULL OF HERBS, THIS EASY BUTTERMILK RANCH DRESSING IS SO TASTY YOU'LL NEVER WANT BOTTLED RANCH AGAIN!
Author:
Prep Time:

5 minutes

Cook Time:

0 minutes

Total Time:

5 minutes

Yield:

1-1/2 cups

Category:

Condiment

Cuisine:

American
Ingredients
1/2 cup mayonnaise
1/2 cup sour cream
1/2 cup buttermilk
1 teaspoon fresh lemon juice or vinegar
1/2 teaspoon dried parsley
1/2 teaspoon dried chives
1/2 teaspoon garlic powder
1/4 teaspoon onion powder
1/4 teaspoon kosher salt
1/4 teaspoon granulated sugar
1/8 teaspoon ground black pepper
1/2 teaspoon minced garlic (optional)
1/2 teaspoon dried minced onion (optional)
1/2 teaspoon dried dill weed (optional)
Instructions
Add all ingredients to a medium bowl. Sir until well combined.
Cover and refrigerate for at least 1 hour to allow flavors to blend.
Notes
Store covered in the refrigerator for up to 1 week.
To lower calories and fat, I have used light mayonnaise and reduced fat sour cream to make this ranch. Still delicious!
For more robust flavor, try adding minced garlic, dried minced onion and dried dill weed to the recipe. I have made it either way and all are super tasty.
Nutrition information is based on using full fat mayonnaise and sour cream.
Keywords: Buttermilk Ranch Dressing