Honey Pepper Ramen Noodle Salad is a cool, crunchy mix of ramen noodles, tangy sauce, fresh peppers and cabbage. The secret is in the honey sauce – and it takes about 15 minutes! A delicious alternative to coleslaw!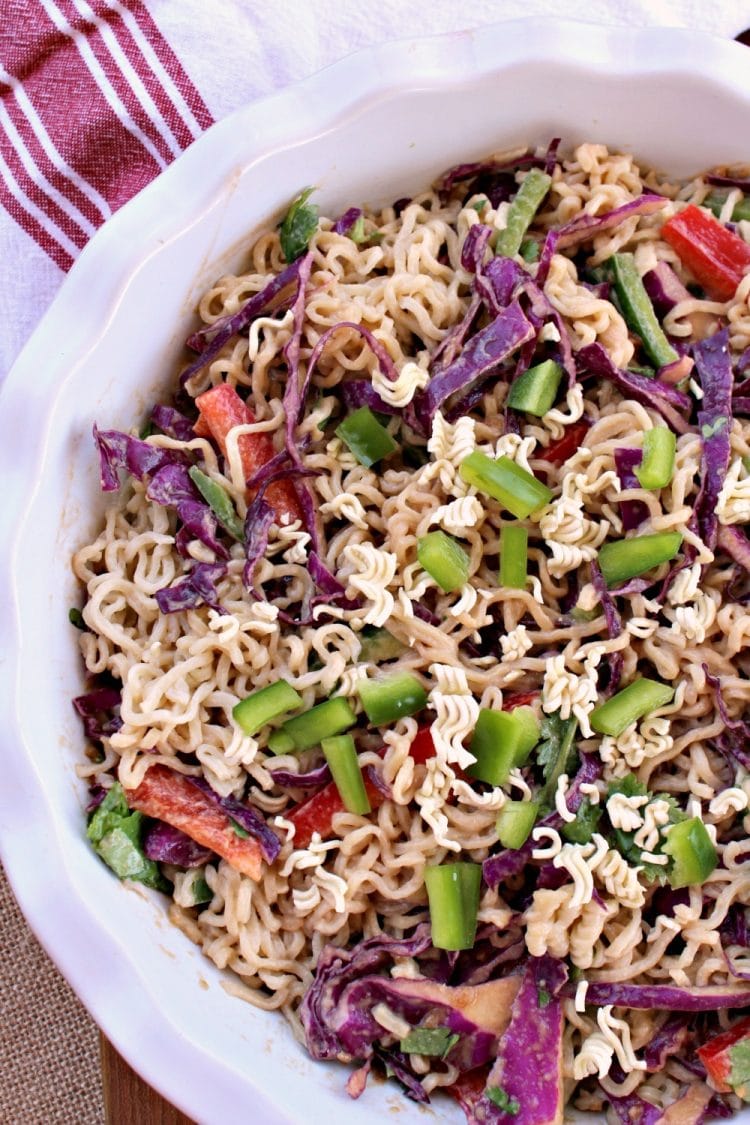 The first time I made this salad, there were groans and eye-rolling and college flashbacks when  the words ramen noodles were spoken. But folks, this dish will have you reaching for seconds. I'm telling you… ramen noodles are getting a raw deal! Even though ramen noodles are used for the base, the combination of flavors of the veggies and sauce will make you wonder why you didn't think of this before.
Note – my grocery doesn't carry just the noodles, so I bought the soup packets. I just discarded the flavor packs that came with. Honestly, I had to sneak the  3 packets of ramen noodle soup into the house for this recipe.  They hid out like outlaws in the pantry until I made this salad…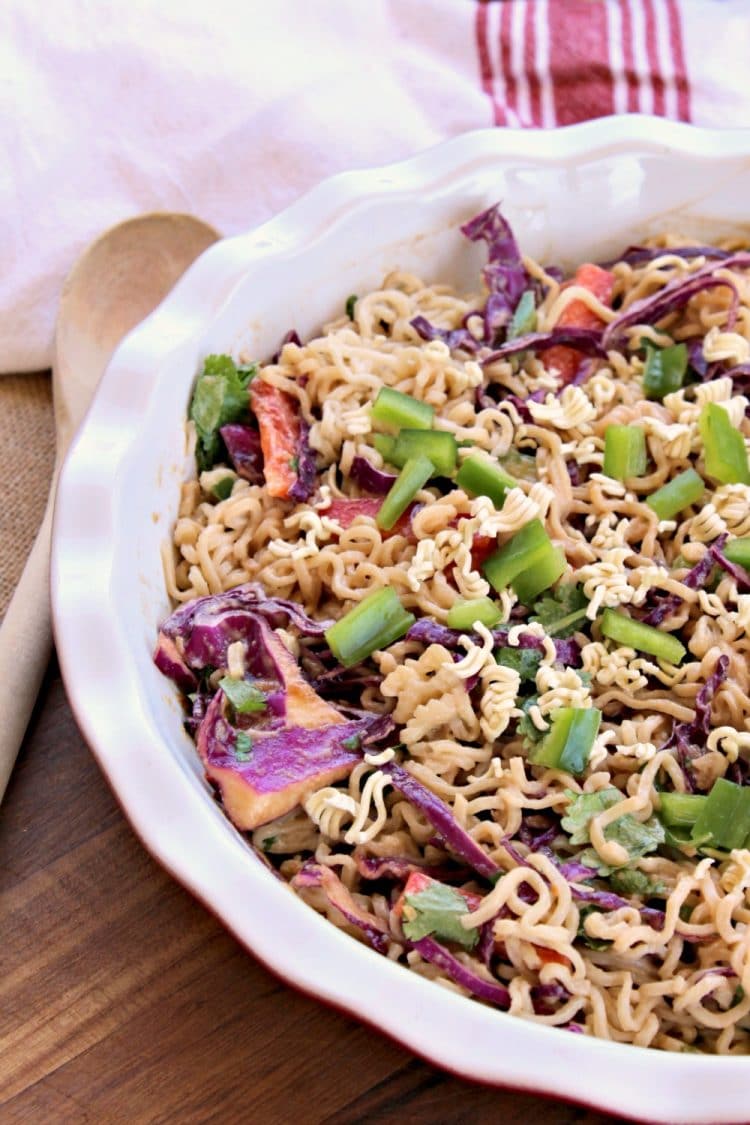 To get started, you will need these ingredients. If you don't want to get the tahini, you can use good ole unsweetened creamy peanut butter. If you will never use tahini for anything else, then just don't buy it. With peanut butter the flavor will be a little different, but still amazing! Still use a 1/4 cup though.
8 oz ramen noodles, or chinese egg noodles (reserve a few for garnish)
1/4 cup tahini
1/4 cup soy sauce
1/4 cup fresh lime juice
2 TBSP honey
1 TBSP crushed garlic
1 sweet red pepper, chopped
1 green pepper, chopped (reserve a few pieces for garnish)
3 cups thinly sliced purple cabbage
1/4 cup finely chopped cilantro
Cook the noodles according to package directions. After the noodles are cooked, rinse them with cold water and drain completely, shaking off as much water as possible.  Meanwhile, chop the peppers, cabbage and cilantro. Set them aside. Next,  in a medium bowl, make the sauce. Whisk the tahini, soy sauce, lime juice, honey and garlic until well blended. You will get a work out whisking because tahini and lime juice don't like each other and won't play nice. Keep whisking until the mixture is smooth. Now, to the sauce in the bowl add the noodles and vegetables and toss to coat. Garnish with reserved green pepper and crunchy noodles. Serve cold.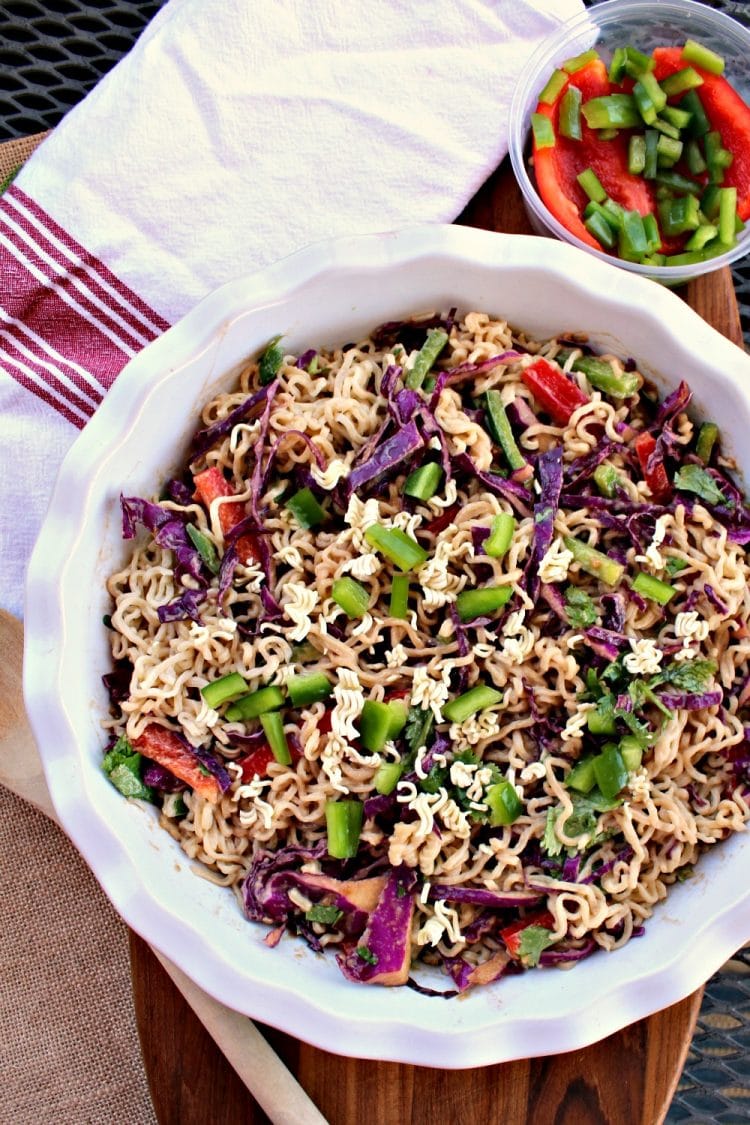 [amd-yrecipe-recipe:104]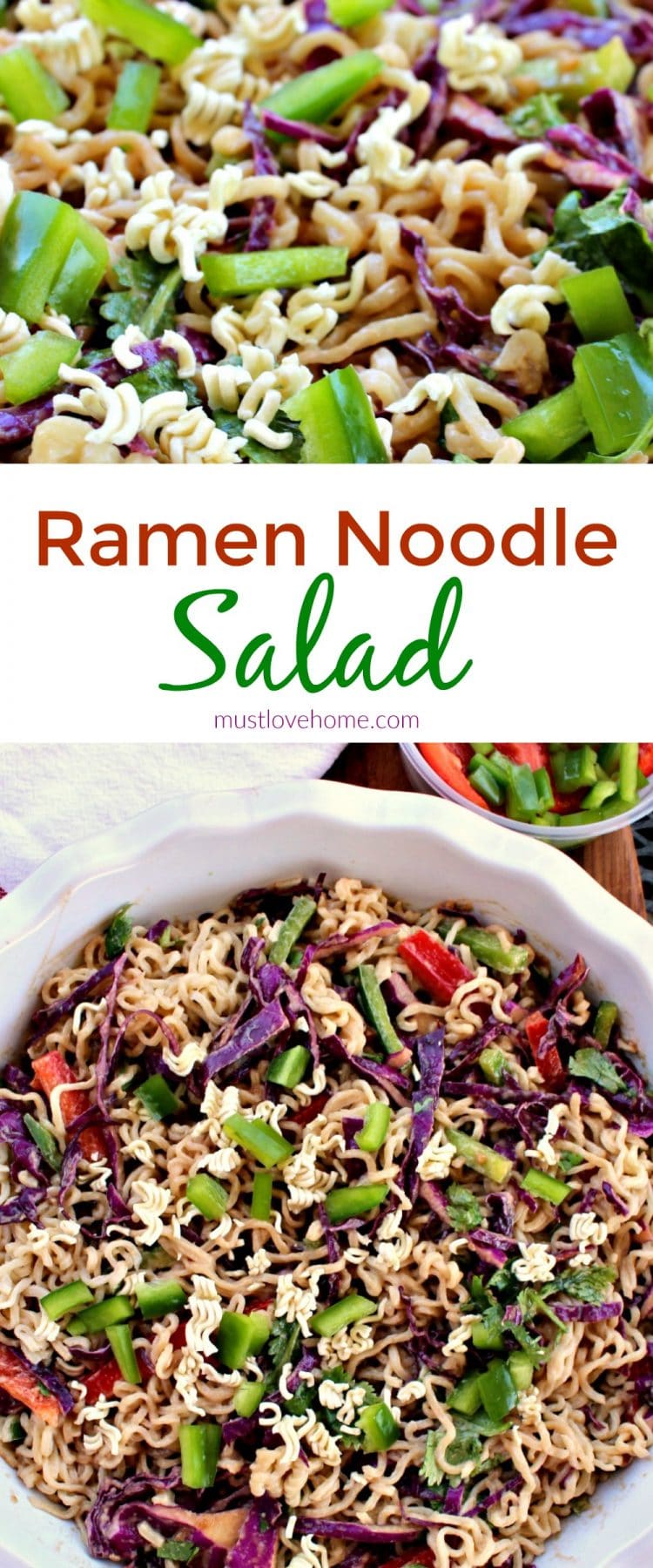 Thanks for visiting the blog today. If you enjoyed this recipe, please share it with your friends! If you love cold salads with crunch ramen, you might like Amazing Asian Coleslaw.

Let's keep in touch!  If you like, follow me on Facebook , Google + and Instagram  so we can stay connected!